ACE Custom Painting
Let ACE spread your favorite paint for a "personal touch" that lasts!

ACE specializes in custom painting services for residential homes or commercial properties. Just mention you saw this ad and receive a 10% discount on occupied units and a 15% discount on interior vacant units!
Professional interior or exterior custom surface painting by hand (brush and roller). ACE will spread the paint of your choice in vacant units or occupied units.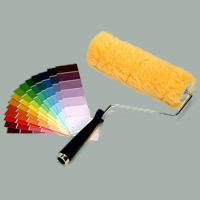 ACE does not mark up the cost of paint, but instead passes the substantial "Contractor Discount" to you, the customer, for your savings convenience.
ACE will prepare surfaces for spreading paint by replacing rotten wood, sanding, perform drywall repairs, and prime and caulk all necessary areas for proper application.
Call today for your FREE estimate and consultation at: 703-941-7070.
Home | More Ace Services | Custom Painting | Bathroom Remodeling | Landscaping Garbage Disposer Catalog | Instant Referrals | Job Listings | Contact Us | About Us